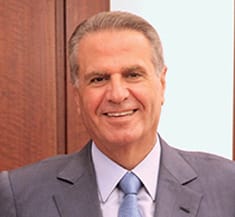 Jacques Sarraf is currently the President of the Lebanese Investors Union.
He is also the Chairman of the Board of Malia Holding Group, Chairman of St. Porphyrios Association, and Chairman of the Lebanese-Russian Business Council. He is also the Deputy Chairman of the Union of the Lebanese- Gulf Businessmen and Vice-President of Beirut Annunciation Orthodox College.
Sarraf is the Honorary Consul of the Russian Federation in Lebanon and Dean of the Lebanese Industrial Association.
Sarraf is a Member of the Lebanese Economic Bodies and Member of advisory Board of the Lebanese American University Medical Center (LAUMC-HR).
He Holds international Medals and Awards.
He holds a Diploma in Business Management.
All Sessions by Jacques Sarraf