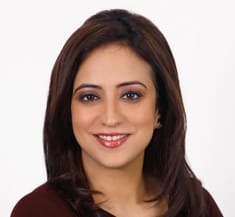 Kokila Alagh
Founder
KARM Legal Consultants
Kokila Alagh is an accomplished Corporate and Technology Lawyer, attaining almost two decades of legal practice in the Middle East. With a wealth of knowledge and experience, she has led global corporations, major government organizations, affluent clients, and cutting-edge start-ups.
Owing to her core strength as a specialized commercial and corporate legal practitioner, with a strong financial and technology background, profound entrepreneurial spirit, and extensive experience in the region, Kokila has established a boutique law firm—KARM Legal Consultants. Offering top-notch legal services on Fintech, Blockchain, Cryptocurrency, Data Protection, AI, Robo-advisory and open banking is the key competency of KARM Legal Consultants. Under Kokila's leadership, and supervision, the firm has successfully on-boarded and advised multiple crypto-exchanges, token offerings (STO/UTO), consortium/enterprise blockchains, crowdfunding platforms, and payment gateway.
The KARM founder has a keen interest in Data Protection laws and exposure to transactions across various industries, including healthcare, real estate, media, retail, and hospitality. Her expertise also extends to investments. Thereon, Kokila has been providing policy, regulatory, compliance, and governance advice to a prestigious clientele that offer highly specialized technology such as Fintech, MedTech, Insure Tech focused entities.
Kokila's expertise and achievements have been recognized in the legal community, as she has been nominated for various awards. Recently, she has been named among the Asian Legal Business Super 50 Lawyers in MENA 2022. With her unique legal insight and specialized knowledge, Kokila's vision is invaluable for navigating the complex legal landscape in the Middle East and beyond.
All Sessions by Kokila Alagh
Turkish Arab Financial Forum
13 Mar 2023
Panel 2: A New landscape for Fintech in Türkiye and the Arab Countries?
The Role of Fintech startups in Driving innovation in Banking
Fintech and Regulations: Balancing Innovation and Compliance in the Evolving Digital Banking Landscape
Fintech trends in the Turkish and Arab markets
How the Fintech ecosystem is evolving?
Fintech from VCs perspective