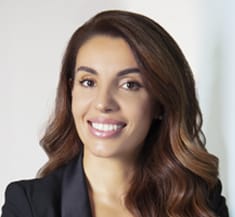 Mehtap Önder
Managing Director
GC Exchange, Dubai
Mehtap Önder is the Managing Director of digital assets brokerage, GC Exchange in Dubai, part of the GCEX Group. She is responsible for all operational aspects of the business in Dubai and for driving GCEX's strategic vision in the Middle East. Before joining GCEX, Mehtap worked at Waystone as a Consultant, advising on regulatory risk and compliance solutions. Prior to this, Mehtap worked for almost a decade at CFH (now Finalto) as a Legal & Compliance Officer and latterly as Regional Director for Turkey. Mehtap holds a BSc and an MSc in Commercial Law from Denmark.
All Sessions by Mehtap Önder
Turkish Arab Financial Forum
13 Mar 2023
Panel 3: How DeFi and Tokenization are Shaping the Future.
Blockchain and Cryptocurrencies: Opportunities and Challenges for Banks in the Digital Age
Who is embracing decentralized finance?
How DeFi regulations are shaping up in the GCC?
Can digital assets regain their appeal in 2023?