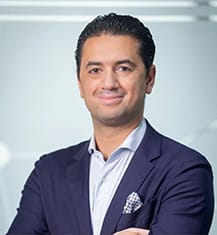 Saqr Mashhor Ereiqat
Co-Founder
Crypto Oasis
Saqr Mashhor Ereiqat is the Co-Founder of Crypto Oasis which is the fastest-growing ecosystem in the world where he is constantly working on developing and maintaining the company's vision, mission statement, and strategic plan.  Before devoting himself to Crypto Oasis, Saqr served as a consultant for fintech, blockchain solutions, healthcare, and innovation management. He is a thirteen-year veteran of IBM in the Middle East and Africa. He was the former Head of Public Sector Consultancy in Dubai for IBM, where he was recognized as a pioneer in enterprise blockchain, being a co-author of the first IBM blockchain for government methodology and helping define the official government blockchain strategy of Dubai. While at IBM, Saqr led projects in 23 countries across Europe, Middle East & Africa where he worked with both public and private sector entities to define, create, and implement their blockchain strategies.
In addition to being a positioning consultant, since 2021, Saqr serves on the Advisory Board of the Global Innovation Institute. He is currently also working with the Dubai International Financial Center (DIFC), the Arab Youth Center, and the Founder Institute as a mentor supporting startups in the region. In the field of healthcare, Saqr has advised several large hospital conglomerates on their technology strategy and set up the National Health Lab for Emerging Technology for the Saudi Arabian Government.
All Sessions by Saqr Mashhor Ereiqat
Turkish Arab Financial Forum
13 Mar 2023
Panel 3: How DeFi and Tokenization are Shaping the Future.
Blockchain and Cryptocurrencies: Opportunities and Challenges for Banks in the Digital Age
Who is embracing decentralized finance?
How DeFi regulations are shaping up in the GCC?
Can digital assets regain their appeal in 2023?